BIOBASED SOLUTIONS NEWSLETTER
 Building Momentum for Soy-Based Construction Materials
What if you could build with materials that are sustainable, that reduce exposure to suspect carcinogens and reduce our reliance on petroleum? And what if those materials perform the same or better than the products they replace, cost the same or less, and even earn LEED points?
You can. In fact, contractors and consumers have been realizing these building benefits and more when they "think soy."
LEEDing the Way to Certification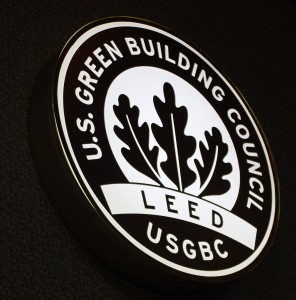 The United Soybean Board (USB) has
supported the development of
many products that have become
important components of buildings
certified by the U.S. Green Building Council
(USGBC) LEED program.
Soy-based feedstocks significantly reduce greenhouse-gas emissions and use less fossil fuel in their manufacture, which earns points in the Materials and  Resources (MR) section of LEED certification for:
 * Use of a rapidly renewable resource
 * Avoiding chemicals of concern
 * Good life-cycle-assessment (LCA) scores
Soy-based materials also score high in the Indoor Environmental Quality (IEQ) 4.1 category, which establishes thresholds for material emissions and volatile organic compound (VOC) levels. They also excel in the IEQ 4.4 category, which rewards the use of wood products that don't have added urea-formaldehyde.
 However, the advantages of using soy-based materials go even further.
A Cure for Sick Buildings

Soy-based adhesives used in plywood are drop-in replacements for urea-formaldehyde adhesives, which emit (off-gas) formaldehyde into indoor air in buildings. Unhealthy concentrations of formaldehyde can contribute to "sick building syndrome." The World Health Organization has indicated that urea-formaldehyde off-gassing is a known carcinogen in humans.Soy-based materials are competitive in price and are widely available through lumber suppliers and retailers. 
Soy is also used in the production of suspended wood ceilings and walls, as well as wood tiles. These types of products provide aesthetics, sound dampening, and concealment.
Flooring installation adhesives also contain soy as a raw material component. Some of these products are one part formulations that can replace and outperform more costly epoxy, urethane, and acrylic adhesives and are easy to use, easy to clean up, and easy to install.

The Perfect Way to Green-Light Building-Code Approvals
As a renewable, low-toxicity resource that contributes to good indoor environmental quality, soy materials help meet the requirements for the International Green Construction Code (IGCC).The new code is expected to make buildings more efficient, reduce waste and have a positive impact on health, safety and community welfare.
With support from USB, Sherwin-Williams researchers developed a new paint formulation that utilizes soybean oil and recycled plastic bottles. This formulation reduces VOCs by 60 percent. 
The company received the 2011 Presidential Green Chemistry Award from the Environmental Protection Agency (EPA) for its new formulation. Today, Sherwin-Williams sells more than 20 million gallons of soy-based products each year. Ten of their soy-based coatings are certified under the U.S. Department of Agriculture's BioPreferred program.
Life-Cycle Benefits of Soy
Rigorous studies demonstrate valuable life-cycle contributions from using U.S. soy for non-food uses, including building-construction materials.
USB released a peer-reviewed update of the life-cycle-inventory databases for soybean production and processing. The update considered four key soy-derived feedstocks for industrial products: (1) methyl soyate, (2) soy lube base stock, (3) soy polyol and (4) soy resin. Check out the report online at www.SoyNewUses.org.
Green Building and Design Freedom
As manufacturers realize the value and benefits of using soy as a replacement for petrochemicals and carcinogens, the number of soy-based products continues to grow. Performance advantages of soy-based products, combined with enhanced availability, make it easier than ever to design more environmentally friendly buildings.
Soy-based materials create strong, beneficial construction plastics. Soy polyols can be used for polyurethane and as a base material for thermoset plastics.
Carpet and artificial turf backing developed with USB support by Universal Textile Technologies uses soy feedstock to replace styrene butadiene and polyvinyl chloride (PVC). This reduces VOC production and the total flammability of the flooring.
Spray-foam insulation based on soy polyurethane made by several manufacturers delivers a high R-value and a good barrier for air and moisture. The product is typically applied as a system, sprayed into enclosures. It can also be sprayed into floor and roof assemblies.
For furnishings, built-in seating and other uses, flexible soy foam enjoys a growing market in the architectural and construction industries. It is already used extensively in the automotive and furniture industries.
Many lubricants and solvents used in building mechanical systems can be made with soy.
Soy has also been introduced as a base material for producing an alternative to asphalt cement, which constitutes about 28 percent of the materials for roof shingles. Some manufacturers and contractors are recycling used shingles, using solvents that are about 25 percent soy based. This is considered a valuable material-reuse strategy, as well as a promising way to cut project costs since primary asphalt prices have quadrupled in the last decade alone.
An abundant, renewable resource that is healthier for building occupants and versatile and durable for construction uses? The simple soybean sounds like a winning ingredient – ripe for growth in the world of building design and construction.
Check out the latest soy-based materials in the Soy Products Guide. 

Biobased Solutions is the flagship newsletter of USB New Uses, covering advances in soy research and development. Each issue transmits electronically every two months and highlights four stories in soy technology and soy-based product success. To subscribe to Biobased Solutions, contact Deborah Dugan at Deborah.Dugan@osbornbarr.com.
May 2013
May 2013 Biobased Solutions – Polyurethane Foam
May 2013 Biobased Solutions – Bio-Based Plasticizers
May 2013 Biobased Solutions – Traffic Paint
May 2013 Biobased Solutions – Polyurethane Wood Shine
September 2012
September 2012 Biobased Solutions – e2e Office
September 2012 Biobased Solutions – Paintball
September 2012 Biobased Solutions – Insulation
September 2012 Biobased Solutions – Biobased Products Stakeholders' Workshop
August 2012
August 2012 Biobased Solutions – BioPreferred Anniversary
August 2012 Biobased Solutions – Fall Tailgating
August 2012 Biobased Solutions – Impact Gel
August 2012 Biobased Solutions – BioPreferred Federal Procurement
January 2012
January 2012 Biobased Solutions – Adhesives
January 2012 Biobased Solutions – Mastic
January 2012 Biobased Solutions – Seals
January 2012 Biobased Solutions – Turf
August 2011
August 2011 Biobased Solutions – Sherwin Williams
August 2011 Biobased Solutions – Gaskets
August 2011 Biobased Solutions – Nutek
August 2011 Biobased Solutions – Diapers
June 2011
June 2011 Biobased Solutions- USDA Biobased
June 2011 Biobased Solutions- Waterless Urinals
June 2011 Biobased Solutions- Soy Polyols
June 2011 Biobased Solutions- e2e
March 2011
March 2011 Biobased Solutions- BioPreferred Label
March 2011 Biobased Solutions- Biodiesel
March 2011 Biobased Solutions- USB Resources
March 2011 Biobased Solutions- Fibers
January 2011
January 2011 Biobased Solutions- New Products
January 2011 Biobased Solutions-Military Use
January 2011 Biobased Solutions-VOCs
January 2011 Biobased Solutions- Winter Products
November 2010
November Biobased Solutions- BioPreferred
November Biobased Solutions- BiOH
November Biobased Solutions- Adjuvant
November Biobased Solutions- Skateboards
September 2010
September Biobased Solutions- Ford Soy Foam
September 2010 Biobased Solutions- Soy Wood Adhesive
September Biobased Solutions- Soy Roofing System
September Biobased Solutions- Nutek Soy Products
July 2010
July 2010 Biobased Solutions- Bioheat
July 2010 Biobased Solutions- BioSpan Award
July 2010 Biobased Solutions- Oil Clean-up
July 2010 Biobased Solutions- Sandals
May 2010
May 2010 Biobased Solutions- Price Trends
May 2010 Biobased Solutions- Bioremediation
May 2010 Biobased Solutions- OSC website
May 2010 Biobased Solutions- Synlawn
March 2010
March 2010 Biobased Solutions- Life Cycle Profile
March 2010 Biobased Solutions- Hajek Motorsports
March 2010 Biobased Solutions- Roof Adhesive
March 2010 Biobased Solutions- Wallables
January 2010
January 2010 Biobased Solutions- New Products
January 2010 Biobased Solutions- BioPreferred
January 2010 Biobased Solutions- Soy Wax
January 2010 Biobased Solutions- Mattress Foam
November 2009
November 2009 Biobased Solutions- Carpet Backing
November 2009 Biobased Solutions- BioPreferred Label
November 2009 Biobased Solutions- Soy Toner
November 2009 Biobased Solutions- Soy Products Guide
September 2009
September Biobased Solutions- Closing the Circle Awards
September Biobased Solutions- Hiawatha National Forest
September Biobased Solutions- Bioheat
September Biobased Solutions- Malama
July 2009
July Biobased Solutions – RePLAY
July Biobased Solutions – Soy House
July Biobased Solutions – Soyanol
July Biobased Solutions – Sherwin Williams
May 2009
May Biobased Solutions- Scientists for Biodiesel
May Biobased Solutions- Adhesives
May Biobased Solutions- Soy foam mattresses
May Biobased Solutions- Grill cleaners
March 2009
March Biobased Solutions- Soy Foam Furniture
March Biobased Solutions- SoyCrete
March Biobased Solutions- Tradeshows
March Biobased Solutions- OSB
February 2009
February Biobased Solutions – TSA
February Biobased Solutions – New Products
February Biobased Solutions – Varathane
February Biobased Solutions – Graffiti Remover
December 2008
December Biobased Solutions – Soy-Flour Adhesive
December Biobased Solutions – Foam Insulation
December Biobased Solutions – Cargill's BiOH Polyols
December Biobased Solutions – Soy Log
September 2008
September Biobased Solutions – Skateboards
September Biobased Solutions – Larvicide
September Biobased Solutions – Bioresin
September Biobased Solutions – Survey
July 2008
July Biobased Solutions – Soy Furniture
July Biobased Solutions – Soy Sealants
July Biobased Solutions – Fort Bragg
July Biobased Solutions – Soy Turf
May 2008
May Biobased Solutions -Transformer Fluid
May Biobased Solutions – RustOleum
May Biobased Solutions – Bumper
May Biobased Solutions – BioSpan
March 2008
March Biobased Solutions – Hog Feeders
March Biobased Solutions – Highway Paint
March Biobased Solutions – Nature's Broom
March Biobased Solutions – New Products
January 2008
January Biobased Solutions – EnviroCel
January Biobased Solutions – Spray-Foam Insulation
January Biobased Solutions – Urinals
January Biobased Solutions – Surfboard
December 2007
November Biobased Solutions – Metalworking Fluid
November Biobased Solutions – Soy Toner
November Biobased Solutions – Soy-Based Diesel Fuel Additive
November Biobased Solutions – Fuel Cell
September 2007
September Biobased Solutions – Biobased Products
September Biobased Solutions – Soy Seating in Autos
September Biobased Solutions – New Soy Adhesives
July 2007
July Biobased Solutions – Sherwin-Williams
July Biobased Solutions – Biofuel cells
July Biobased Solutions – Bean-e-Rid
July Biobased Solutions – Web site
May 2007
May Biobased Solutions – CleanGredients Database
May Biobased Solutions – SoyGuard Wood Sealer
May Biobased Solutions – Military Cleanup
May Biobased Solution – Cool Tool Systems
March 2007
March Biobased Solutions – Soy Reduces Metal Wear
March Biobased Solutions – Soy Use in Plastics
March Biobased Solutions – LEEDs Boost Soy Use
March Biobased Solutions – Soy Paint Strippers
January 2007
January Biobased Solutions – Soy Particle Board
January Biobased Solutions – New Products
January Biobased Solutions – Foam in Autos
January Biobased Solutions – Soy Carpet Backing
November 2006
November Biobased Solutions – Soy Polyols
November Biobased Solutions – Bioheat
November Biobased Solutions – Aerosol Lubricants
November Biobased Solutions – Soy Solvents
September 2006
July 2006
May 2006
March 2006
January 2006
November 2005